Lukashenka Vows Not To 'Give Our Country To Anyone' After Violent Dispersal Of Demonstrators In Belarus
VITSEBSK, Belarus -- Belarusian President Alyaksandr Lukashenka has dismissed Western criticism after police across the country violently dispersed thousands of demonstrators following the exclusion of a top challenger from the country's election next month.
Об этом сообщает FLB
"We don't want anyone to tell us how to live," Lukashenka said while meeting with local leadership in the eastern city of Vitsebsk on July 15.
The 65-year-old Belarusian leader, who is seeking a sixth consecutive term in a presidential election on August 9, vowed: "We will defend our country with all legal means," indirectly referring to the July 14 protests that were similar to previous demonstrations last month, which prompted him to accuse forces in Russia and the West of meddling in the election process in Belarus.
"We must keep in mind that discipline, both executive and technological, as well as stability in the country are the basis for any development. Neither Maidans nor revolutions will help us," Lukashenka said, referring to the mass anti-government protests in neighboring Ukraine known as Euromaidan that toppled Russia-friendly President Viktor Yanukovych in 2014.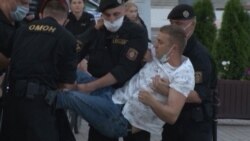 Embed share
Protests And Arrests As Belarus Excludes Key Lukashenka Challenger From Election
Embed share
The code has been copied to your clipboard.
---
---
The URL has been copied to your clipboard
No media source currently available
Lukashenka's statement came a day after police detained at least 301 people, including two RFE/RL reporters and at least 12 other journalists, in Minsk and some other towns and cities amid protests against the Central Election Commission's (CEC) decision not to register a rival to Lukashenka in the upcoming election: Viktar Babaryka, a former bank manager now in jail on embezzlement charges that he and his campaign say are politically motivated.

SEE ALSO:
Protests Erupt Across Belarus After Top Lukashenka Challenger Barred From Presidential Election
Some of the detained individuals were later released.
Belarus's Investigative Committee said on July 15 that it had launched a criminal case into what it called "organizing and participating in public disturbances in Minsk."
In a statement, Amnesty International urged the Belarusian authorities not to "disperse and prosecute people who stand up for their rights."
"Anyone detained simply for peacefully protesting in Minsk, or other cities, is a prisoner of conscience and must be immediately and unconditionally released," said Aisha Jung, the human rights watchdog's senior campaigner on Belarus.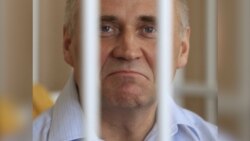 Embed share
Beatings And Incarcerations: The Dangers Of Running For President In Belarus
Embed share
The code has been copied to your clipboard.
---
---
The URL has been copied to your clipboard
No media source currently available
The CEC said on July 14 that five candidates were officially registered for the ballot, including Lukashenka, who has ruled the country since 1994, adding that Babaryka was left off the list of candidates.
According to the CEC, Babaryka was not registered because inconsistencies were allegedly found in his income and property declaration, and because a foreign organization had taken part in his election campaign.
Valer Tsapkala, a prominent businessman and former Belarusian ambassador to the United States, was also disqualified from running by the CEC.
"We are deeply concerned about the reports of mass protests and detentions of peaceful activists and journalists. So we are going to continue to do what we can to urge the government of Belarus to improve its record on human rights and democracy and to meet its OSCE requirements," U.S. Secretary of State spokeswoman Morgan Ortagus told RFE/RL in an interview on July 15.
"We know that free and fair elections are about more than just what happens on the election day. We think it is incredibly important for the government to provide a level playing field for everyone who wants to take part in the elections. That includes access to media," Ortagus also said.
On July 14, the European Union's foreign policy chief, Josep Borrell, said that "the seemingly arbitrary exclusion of candidates limits the possibility for the Belarusian people to express their will and already undermines the overall integrity and democratic nature of the elections."
The OSCE's Office for Democratic Institutions and Human Rights (ODIHR), Europe's European election watchdog, said on July 15 it would not send monitors for the election after not receiving a "timely invitation."
Expressing concern that Belarus had not addressed problems previously identified in the electoral process, ODIHR urged Minsk to take "concrete and immediate steps to protect the exercise of fundamental freedoms."
ODIHR Director Ingibjorg Solrun Gisladottir also reiterated her "deep concern" at reports that prospective candidates had been intimidated and opposition activists arrested, adding: "The protection of fundamental freedoms of assembly and expression is a precondition for genuine democratic elections."
With reporting by BelTA
Источник: "https://www.rferl.org/a/belarus-lukashenka-violent-dispersal-demonstrators/30727776.html"
Похожие материалы (по тегу)